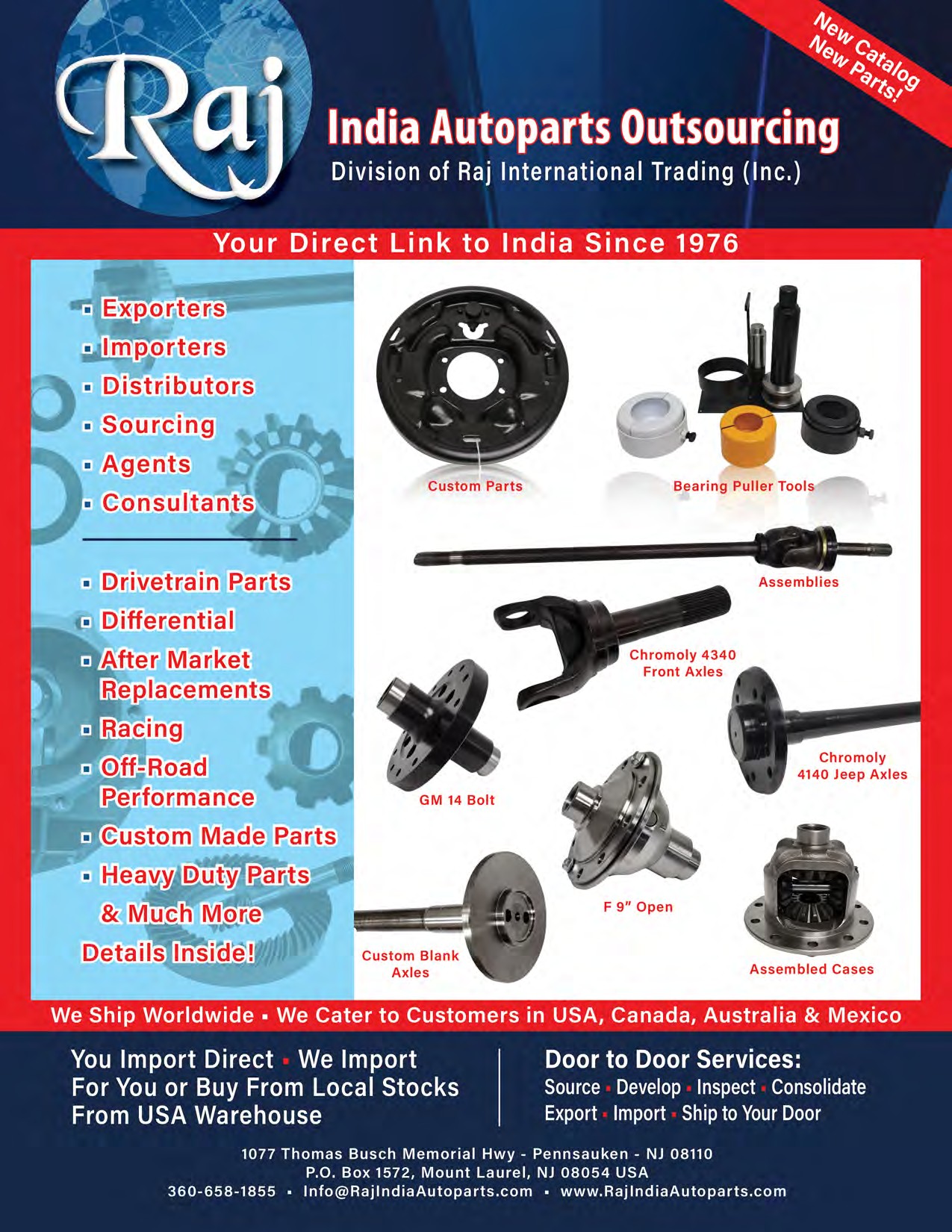 Click to View

And Many Other Small Parts can be developed per Customer Specs. Many US part nos available.
31 Years of Experience and Expertise & Reputation at your Service
Raj India has been working with many Leading US companies & Small ones ( Importers, Wholesalers, Mass Merchandisers) helping them Outsource Variety of Products from India since 1976.

** 31 years of Experience in Import Export Trading dealing with US and India.
With our Good Business ethics, Credibility , Reliability and Honest working relations, we have established good reputation in the Market with American & Canadian Customers & India Manufacturers.
Source All kinds of Differential and other After Market AutoParts
Our Programme is Flexible to buy small or large Qty at Direct Import Prices.
Importers- Can Import Direct From Reputable Manufacturers.
Wholesalers-Distributors- We can Import For You at Direct Import Prices.
Services we provide
We can help you from Planning your Visit to India Factories to recieving your Shipments.
Sourcing New Products- Put you in Direct Contact with reputable Mfrs.
Negotiating Best Prices and Terms.
Developing New Products- Sampling follow ups.
Inspection of Merchandise- before Shipping to insure Quality & your Specs.
Consolidate shipments- from Various Mfrs. Or if you buy LCL qty., we have containers coming regularly.
Custom Clearance in US and get it delivered to your Warehouse.
We assure you of Prompt, Professional, Honest, Reliable and Friendly Service.
How to get Started
All you have to do is just give us an opportunity to get you a Quote and a chance to prove ourselves.You do not have to pay us a single Penny till you have started receiving your first shipment.We work for you in your best interest & find you best sources based on your requirements.


News and Events
India has become one of the Major sources & Manufacturing Hub for After Market Auto Parts to US and Other Countries. Providing Quality Parts some of which are being used in the Performance Market in US